Uzbekistan, a key player in Central Asia, is characterized by its growing economy, strategic location, and abundant natural resources. As the region's most populous country, it is becoming increasingly attractive to international businesses and investors. The government has been taking measures to improve the business climate and attract foreign investment.
However, challenges still persist in the realms of bureaucracy, corruption, and the influence of large business players, which can make navigating the risk management and compliance landscape in Uzbekistan quite complex. Our coverage of Uzbekistan aims to provide you with the necessary tools and insights to make informed decisions, ensuring your organisation remains compliant and well-informed about potential risks in this dynamic market.
With ClearPic online software, you can automate counterparty finding, validations and background research procedures by aggregating data from multiple public registers into a single, digestible dashboard.

Reliable data from
official sources only

200+ data sources
in a single, unified view

Company reports
translated into English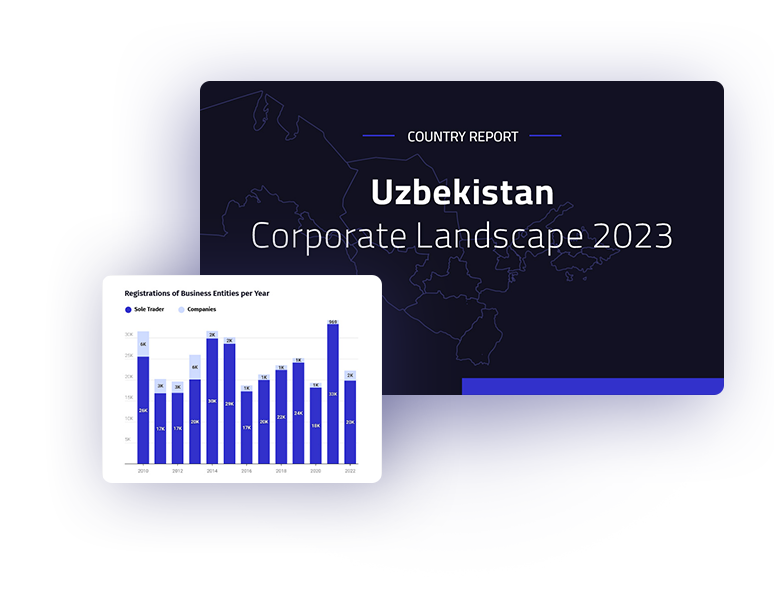 UZBEKISTAN

Corporate Landscape Report 2023
Get a comprehensive overview of the corporate landscape in Uzbekistan with our FREE country report. Use an opportunity to get insights and thorough examination of key company activities, charter capital size, and other registration data.
What is inside:
Total number of registered companies
Company age
Growth of enterprises
Allocation of active companies by industry
Legal forms
Chartered capital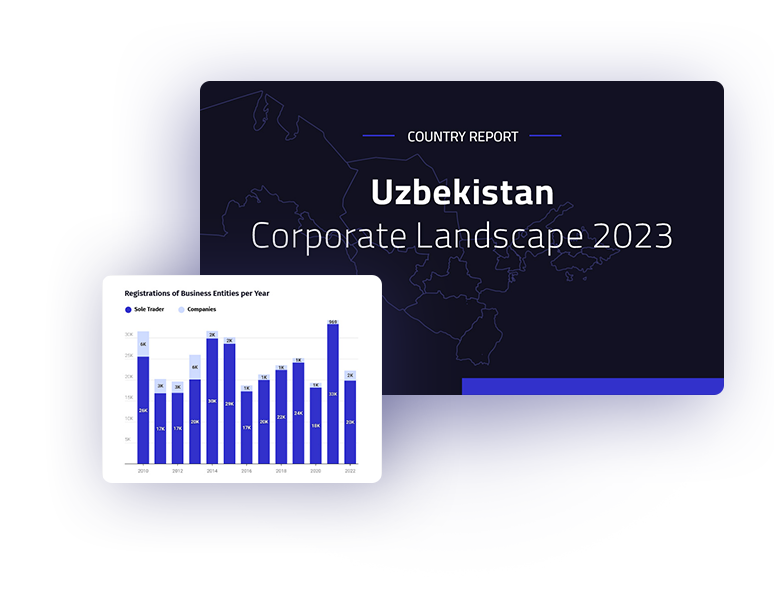 Get the most complete information about the counterparty in Uzbekistan
Registration information of companies and individual entrepreneurs
800,000 companies records
Historical Data since 2018
Updated weekly
Information on litigation proceedings
2.5 million case records
Historical Data since 2017
Updated weekly
Public contracts, register of unscrupulous suppliers
5 million contracts
Historical Data since 2010
Updated weekly
Data about companies' participation in trade chambers, commercial projects and business ratings
Historical Data since 2018
Updated upon new publications
Local lists of tax debtors, ineligible companies, etc
180,000 records
Historical Data since 2015
Updated upon new publications
Popular company search requests in Uzbekistan
| COMPANY NAME | LOCATION |
| --- | --- |
| Uzbekneftegaz | Tashkent, Uzbekistan |
| Navoi Mining and Metallurgical Combinat (NMMC) | Navoi, Uzbekistan |
| Almalyk Mining and Metallurgical Complex (AMMC) | Almalyk, Tashkent Region, Uzbekistan |
| UzAuto Motors | Asaka, Andijan Region, Uzbekistan |
| Uztransgaz | Tashkent, Uzbekistan |
| Ucell | Tashkent, Uzbekistan |
| Uzbekistan Airways | Tashkent, Uzbekistan |
| Uzbekhydroenergo | Tashkent, Uzbekistan |
| Uzprommashimpeks | Tashkent, Uzbekistan |
| Ipoteka Bank | Tashkent, Uzbekistan |
Uncover the full possibilities of the ClearPic counter-party investigation online tool.
Get a firsthand look at ClearPic's powerful online platform and its capabilities in UBO identification, Affiliation mapping, Public procurement analysis, and Litigation record research.
Reach out to our sales team now and schedule a demo today.